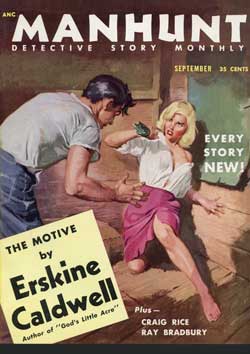 Manhunt Detective Story Magazine Vol. 1 No. 9 Sept. 1953
Contents
Evan Hunter "The Death of Me" (A Matt Cordell Novelette)
Fletcher Flora "Fair Game"
William Vance "What Am I Doing?"
Richard Marsten "Accident Report"
Richard Deming "Bonus Cop"
Dan Sontup's Portrait of a Killer: Chester Jordan
Erskine Caldwell "The Motive"
Jack M. Bagby "Chase By Night"
Ray Bradbury "The Millionth Murder" art by Don Rico
Vincent H. Gaddis' Crime Cavalcade
Hunt Collins "The Molested"
Craig Rice "Life Can Be Horrible" (John J. Malone)
Jonathan Craig "The Scrapbook"
Mugged and Printed: Erskine Caldwell, Ray Bradbury, Evan Hunter, Richard Deming, etc.
Flying Eagle Publications, Inc,
Editor: John McCloud
Managing Editor: E.A. Tulman
Assoc. Editor: Hal Walker
Art Director: Chas. W. Adams
Business Manager: R.E. Decker
144 pages, 35¢
Peter Enfantino's story-by-story synopsis of Manhunt is featured in The Digest Enthusiast No. 6–10.