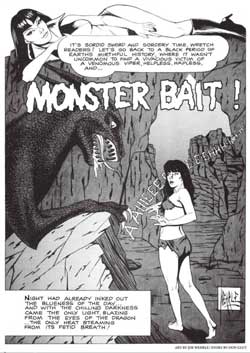 Excerpt from "The Creative Works of Joe Wehrle, Jr." from The Digest Enthusiast No. 8, June 2018.
"Around that time [early 1970s] I also illustrated one script for Warren Publications' Vampirella, and wrote one for them which was beautifully delineated by Esteban Maroto. I found Warren Pubs hard to deal with, though, slow with the money and critical of the work, although I thought I did a fairly good job for my first pro comics work. They ran the Wehrle/Maroto story over and over, but I never saw a nickel after the $12.00 or so they originally paid for the script."
Joe's first story, "Monster Bait," written by Don Glut, appeared in Vampirella No. 9 (Jan. 1971). "Wolf Hunt" written by Joe and illustrated by Esteban Maroto first appeared in Vampirella No. 14 (Nov. 1971).
Joe's bibliography appears on the Larque Press website.