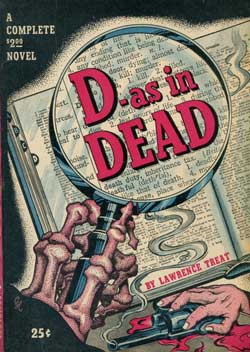 An excerpt from Steve Carper's series "One-and-Dones" that appears in The Digest Enthusiast No. 7–9:
Paperback Prices by Graham Holroyd lists two books, D as in Dead, by mystery great Lawrence Treat, and The Lisping Man, by Frank Rawlings, as Atlas Books from the Hercules Publishing Corp. Kenneth R. Johnson's "The Digest Index" and Hancer's Price Guide to Paperback Books remove D as in Dead to a separate line of Martin Goodman books, also using the Hercules imprint. Why not put them together? Because D as in Dead is in fact separate. It does not blare "An Atlas Mystery" on the back cover. It is the largest of the three sizes that Atlas used.
Now Available from McFarland: Steve Carper's Robots in American Popular Culture, a comprehensive reference volume that includes a companion website: robotsinamericanpopularculture.com.