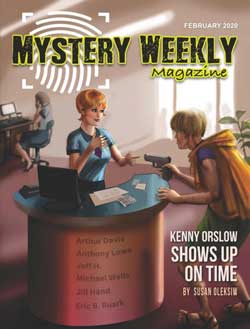 The new Mystery Weekly Magazine Feb. 2020 was released on the first. Included are stories by Arthur Davis, Jeff H., Jill Hand, Anthony Lowe, Susan Oleksiw, Eric B. Ruark, and Michael Wells. MWM is edited by Kerry Carter and published by Chuck Carter. Cover by Robin Grenville-Evans. The 82-page print edition is $6.99, Kindle $2.99.
Kieran Shea decides to "Shake It Up" at EQMM's blog Something is Going to Happen.
A.J. Ward joins Analog's 90th anniversary celebration with "1942 and the Power of Names" at The Astounding Analog Companion blog.
Alex Irvine discusses his story "Chisel and Crime" with F&SF.
Tough Crime features William R. Soldan's fiction "King of the Blue Rose" and SleuthSayers features Robert Lopresti's story "Shot By Your Partner" part one and part two.
J.D. Graves reviews Norco '80 by Peter Houlahan over at EconoClash Review.
Tony Gleeson and I connected on Facebook, which led to an interview that will be included in The Digest Enthusiast No. 12. He sent a nice collection of scans, so his comments will be well illustrated.
I read the first edition of Amazing Selects this week, featuring Allen Steele's novella "Captain Future in Love." It's the first part of a larger story: The Return of Ul Quorn, which is the follow-on to his novel Avengers of the Moon. Look for my review in TDE12, coming in June 2020.
Also coming up is a piece on Ray Palmer's Science Stories, an interim title that ran for four issues after he sold his interest in Clark Publishing which had published Other Worlds. It is, in effect, a short-lived continuation of that title.
The mailing of contributor copies of TDE11 wrapped up this week, and Michael Neno gave us a shoutout on Facebook. Michael contributed a beautiful illustration for the late Joe Wehrle, Jr.'s story "Zymurgy for Aliens."
Collectors of comics and digest magazines may want to check out by storefront in eBay: Arkay37's Vintage Collectables If I do say so myself, the prices are bargains.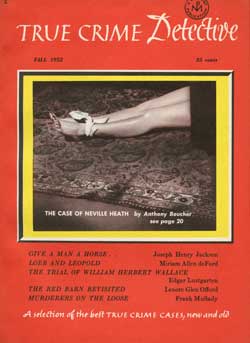 From the Vault
True Crime Detective Fall 1952
The inside front cover features a full-page ad for the magazine with actor Ralph Bellamy extolling it's virtues.
"The many detective parts I've played have naturally made me somewhat of a student of criminology. For a long time I wished for a magazine that would present true crime cases in a straight-forward, exciting way—but without sensationalism and trick photography. When True Crime Detective came along I knew I had my wish!"
True Crime Detective Vol. 2 No. 4 Fall 1952
Contents Page
The Borderlands of Sanity:
—Miriam Allen deFord "1. The Case of Leopold and Loeb"
—Anthony Boucher "2. The Case of Neville Heath"
Joseph Henry Jackson "Give a Man a Horse"
Frank Mullady "Murderers on the Loose"
Edward D. Radin: Here's the Answer (readers' crime-related Q&A)
Janet Flanner "The Murder in Le Mans"
Lenore Glen Offord "The Red Barn Revisited"
Edgar Lustgarten "The Trial of William Herbert Wallace"
Publisher: Lawrence E. Spivak
Editors: Anthony Boucher, J. Francis McComas
General Manager: Joseph W. Ferman
Managing Editor: Robert P. Mills
Advisory Editor: Charles Angoff
Consulting Editor: Edward D. Radin
Art Director: George Salter
Cover: Dirone Photography from "The Case of Neville Heath"
5.5" x 7.75" 128 pages 35¢