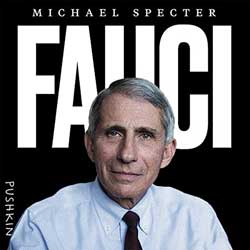 This audio biography of Dr. Anthony S. Fauci by Michael Specter provides an excellent overview of the famed doctor's career, along with excerpts from interviews recorded along the way. Covering more than three decades of work and discovery, from his childhood in Brooklyn to his pioneering research and advocacy for patients with AIDS, up to the current global pandemic with COVID-19.
In addition to its fact-based case for science, its also an illustration of the power of grounding yourself in facts. Faced with a tidal wave of emotion, and too often misinformed rage, Fauci kept his cool and his self-esteem intact by sticking to facts as the foundation for his even-handed, often generous, response to his critics and those intent on bullying. A casebook for going high, when your critics go low.
WIP Update
The proof copy of The Digest Enthusiast No. 13 arrived this week. The book will be manufactured by Lulu.com and was originally spec'ed on their 60 lb. interior stock. The proof looks good, but the color cover repros were not quite as crisp as I'd like. When I went back to upgrade to Lulu's 80 lb. option, I found the selection no longer available since the book had already reached the proofing stage. This didn't make sense to me, but there may be good reason(s) of which I'm unaware. I filled out a customer support request, but the response was an automated email that didn't address my problem. I ended up "retiring" the project and opening a new one using 80# stock. A fresh print proof is in progress. Probably unnecessary, but I want to be sure everything looks good before the book's release. The heavier stock is more expensive, so the price will be $20 for the print version. The release will likely be the week of the Christmas holiday. Watch for the announcement here.
Marc Myers finished reviewing the proof copy of his latest book Oddities and Other Grotesques by Roman Scott. Several pages are a bit dark, so he's forwarded the proof to me. I'll adjust the contrast/density to the pages that need it and upload a new interior file in the next week or two.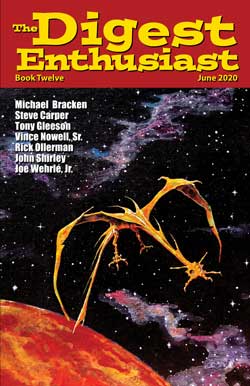 Ran Scott completed several more interior illustrations for the next Pulp Modern and sent some cover sketch ideas to editor Alec Cizak and I. We make the selection and now things are back in Ran's capable hands. Still no hard date for release, but late Dec/early Jan seems realistic.
Our current issue: The Digest Enthusiast No. 12 is available in print at Lulu.com and Amazon, and in digital formats at Kindle Books and Magzter.