Excerpt from my tribute, "The Creative Works of Joe Wehrle, Jr." from The Digest Enthusiast No. 8, June 2018:
"Cartoon Trader was monthly from October to December 1989. The fourth issue, dated March 1990, was the last I've seen. In addition to Joe's covers, it included Classic Cartoonist Cards, paper dolls, and a page of comic strips with Joe's Cat Burglar, Stovepipe, Night Radio, and Karen's Litter Lane.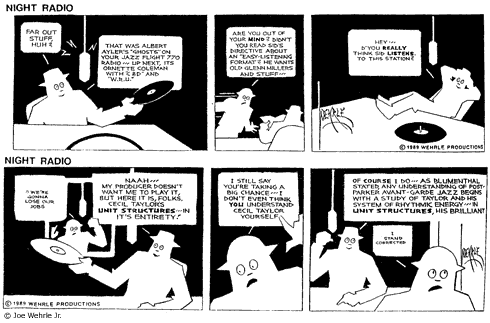 "Night Radio offered a peek into another great interest of Joe's—classic jazz. He collected 78s and played the saxophone, clarinet, and guitar. 'I have fond memories of those few months we produced the Cartoon Trader, and still in my collection is a handful of very charming strips I prize which Karen drew for the zine about a feline couple living a zany suburban life. There will never be any more of those.' In 2014, Joe published a 16-page mini comic collecting The Unknown Comic Art of Karen Wilson Wehrle. It includes her Litter Lane comic strips and eight color cartoons she drew fora proposed children's book."

Joe's bibliography appears on the Larque Press website.