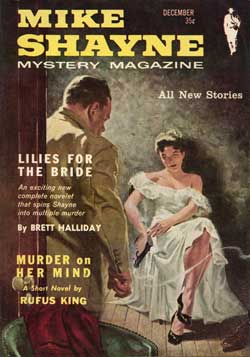 Brett Halliday: Weddings . . . and Funerals
Contents Page
Brett Halliday "Lilies for the Bride" art by Leo Morey
John Jakes "The Affair of the Second Dracula"
D.E. Forbes "The Fifth One" art by Bowman
Rufus King "Murder on Her Mind" art by Leo Morey
Henry Slesar "Fly Home to Betsy" art by Leo Morey
Frederic (Fredric) Sinclair "Sky Caper"
John Bennett Stacey "The Dangerous Decision"
Curtis W. Casewit "You Can't Buy Guts" art by Leo Morey
W.R. Drobnich "Who Else, Mac?
Mike Shayne Mystery Magazine Vol. 2 No. 5 Dec. 1957
Publisher: Leo Margulies
Managing Editor: Cylvia Kleinman
Production: Joan Sherman
5.25" x 7.75" 128 pages 35¢