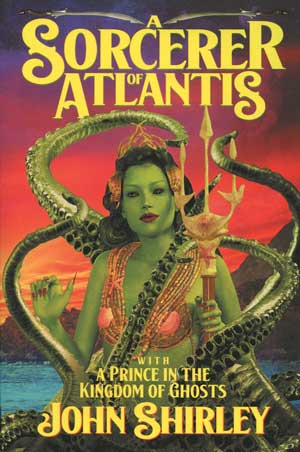 I had the pleasure of interviewing John Shirley for The Digest Enthusiast No. 12 about Weirdbook No. 42 the special John Shirley issue. His novella, "Swords of Atlantis," is the cornerstone of the issue.
In need of a quick payday, Snoori convinces his companion, Brimm the Savant, that treasure awaits them on Poseidonia, one of the ten kingdoms of Atlantis. "It is circled with fields and orchards and stream jumping with curious but delicious fish. And there, in an old palace, waits the beauteous Cleito, a princess who has offered ten bushels of gold to any ten men who will become the Swords of her Heart: the champions who will destroy a minor demon set in place by an addle-pated old sorcerer—a sorcerer long dead."
Seeking passage to the island, Brimm and Snoori soon find themselves manacled in a ship's bowels, shanghaied as galley slaves. The two irreverent heroes tax their wits and luck to escape one danger only to land in the midst of another. A rollicking, ricocheting adventure bordered by peril, magic, gold, and romance.
The story begged for a follow-up, so I asked John if it was part of a series. Below is his reply:
"While 'Swords of Atlantis' is self-contained, a complete tale (with several parts) in and of itself, it is indeed also designed to be the first half of a novel, and the beginning of a series of novels. The second half has been roughly outlined. I would like to write a series of stories about Brimm and Snoori. They are an amusing duo. I wanted to write something that, while not satire or parody, still had a sense of humor. While the novella has its horrific and traditionally fantastic core, I was looking for every possible way to make the story more entertaining, and having a sense of humor about the heroes is another facet. In this I'm a bit influenced by certain Jack Vance tales, perhaps especially the Cugel stories. I grew up loving the sword and sorcery fantasy stories of Robert E Howard and Fritz Leiber, and, when I was in my early teens, Moorcock's Elric stories. I've always wanted to explore that genre in my own way and thus, here is "Swords of Atlantis." Additionally, the Atlantis story has always held a certain fascination for me. I tried to ground the novella in a reasonably real-seeming setting, as it might have been in ancient times, centuries before Anno Domini."
Approximately twleve months later, Hippocampus Press has published A Sorcerer of Atlantis with further adventures of Brimm and Snoori as well as the novella "A Prince in the Kingdom of Ghosts."
For more background on the book see Doug Draa's interview with John Shirley at BlackGate.com.