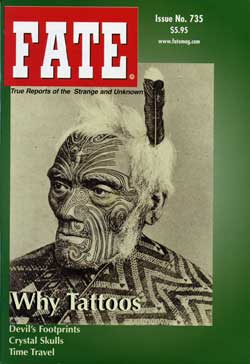 April Digests
Fate No. 735: Why Tattoos
Contents Page
I See By the Papers by Fate Staff
Phyllis Galde: From Your Editor
Katharine Clark: Little Lost Lives
Chris & Paulette Moon: My Encounters with Shadow People
Valenya: The Gardener's Sin
James McArthur: The Devil's Footprints
David Weatherly: Payson, Arizona
W.A. Harbinson: Myths and Facts of the Crystal Skulls
Diane Tessman: UFOs: People of the Future?
Stevie Tombstone: Tattooing Overview
M. Christian: Walking Artwork
Jim Willis: Stones Cry Out
Natalie Fowler: Schmidt Brewery
Cheyenne Campbell: Bonanzaville
Hermester Barrington: Spook Lights
Joseph Curreri: Gentle Giant
Kevin Swanson: Paranormal Gear
Rudy Parker: 50 Years Ago: Telling of the Bees
Ted Mahr: Message From the Masters
True Mystic Experiences
My Proof of Survival
Report from the Readers
Classified Advertising
The Amazing Godwin from Spirit as told to Phyllis Galde by Janice Carlson
Editor-in-Chief: Phyllis Galde
Senior Editor: Susan Swan
Editors: Jamie Anderson, Natalie Fowler
Social Media: Jamie Anderson
Fate Radio Host: Kat Hobson
Cover image of a tattooed Maori
Approximately 5.25" x 7.75" 120 pages $5.95
Fate website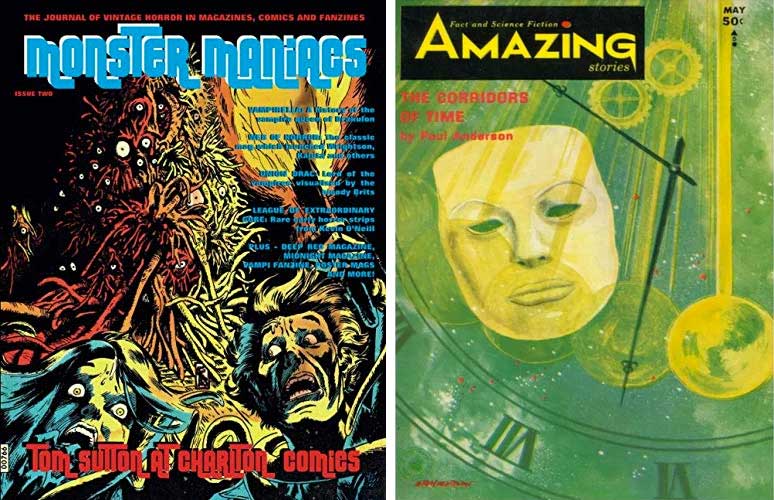 Monster Maniacs No. 2
The journal of vintage horror in magazines, comics and fanzines. Content includes Web of Horror, Vampirella, Tom Sutton's work at Charlton, Kevin O Neil's early horror strip work, interviews with small press publishers of Deep Red, Midnight and Vampi.
8.5" x 11" full color 80 pages $10.99
Digest and Book Reviews
John Boston reviews Amazing May 1965 at Galactic Journey.
Robert Lopresti reviews Martin Hill Ortiz's "Mixed Identities" from Mystery Weekly Magazine, April 2020 at Little Big Crimes.
James Van Pelt reviews selections from the Mar/Apr 2020 issues of Asimov's and F&SF at Black Gate.

Digest Magazine Blogs
Scott Rutherford: "What Crime Fiction Editors Want and Don't Want" at EconoClash Review.
William Burton McCormick on his "Night Train to Berlin" from AHMM March/April 2020 at Trace Evidence.
William Ledbetter on "Hungry is the Earth" from F&SF March/April 2020 at Fantasy & Science Fiction.
Gregory Benford talks fact and fiction at The Astounding Analog Companion.
N.W. Barcus writes about mysteries and video games at EQMM's Something is Going to Happen.
2020 Derringer Award Finalists
Gerald So interviews 2020 Derringer Award finalists at Chatterific. Leslie Budewitz, Michael Bracken, Trey Dowell, John M. Floyd, Debra H. Goldstein, Steve Greco, C.C. Guthrie, Richard Helms, Sandra Murphy, Josh Pachter, C.J. Verburg, Maultash Warsh, and Frank Zafiro. (Hat tip: Kevin R. Tipple)
Digest Newsletter
Read the April newsletter from Pulp Literature.
TDE Contributor Corner
Peter Enfantino explores Journey into Strange Tales! Atlas/Marvel Horror issue 58 at bare•bones e-zine.
Readin' and Writin'
Switchblade submission window April 15–25 at Switchblade Mag.
Publishing progress took a back seat to house and yard work this past week, but I was able to complete the layout of the review of bare•bones No. 1 for the June 2020 issue of The Digest Enthusiast. Also did some retouch work on the cover images for Ward Smith's article on "The Five Ages of Science Fiction."
I've been reading A Trio of Beacon Books from Stark House Press, with a fab introduction by Jeff Vorzimmer. This week was Call South 3300: Ask for Molly! by Orrie Hitt. Terrific!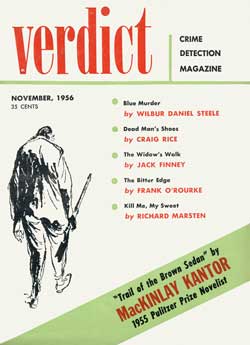 Vintage Crime Digest
Verdict Vol. 1 No. 2 Nov. 1956 (Second Series)
Contents Page
Jack Finney "The Widow's Walk"
Frank O'Rourke "The Bitter Edge"
Wilbur Daniel Steele "Blue Murder"
Clayre and Michel Lipman "Priest Hole"
Richard Marsten "Kill Me, My Sweet"
MacKinlay Kantor "Trail fo the Brown Sedan"
Wade H. Mosby "Hangman's Witness"
Craig Rice "Dead Men's Shoes" (John J. Malone)
David C. Cooke "Shadow on the Hill"
Bryce Walton "Bridge Game"
Verdict Crime Detective Magazine Vol. 1 No. 2 Nov. 1956
Publisher: Michael St. John
General Manager: R.E. Decker
Editorial Director: Walter R. Schmidt
Managing Editor: William Manners
Associate Editor: N.F. King
Art Director: Charles W. Adams
Assistant AD: Gerald Adams