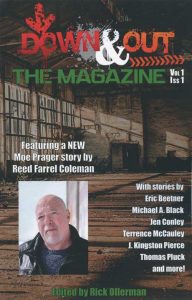 Excerpt from Rick Ollerman's interview from The Digest Enthusiast No. 7. Here he talks about the origins of Down & Out: The Magazine.
"I had been thinking about all of the latest wave of magazines that have hit the marketplace, mostly made possible by newer technologies like POD and the ability to do layouts and upload .pdf files to a publisher, etc. and wondered why they seemed to have a limited shelf life.
"I bumped into Eric Campbell from Down and Out Books at Bouchercon in New Orleans. And I told him, 'You should do a magazine.' He took a sip of something that wasn't Kool-Aid and said, 'That's funny, I've been thinking the same thing.' I told him I'd be interested in editing it and putting it together."
The first issue of Down & Out: The Magazine debuted in the summer of 2017.