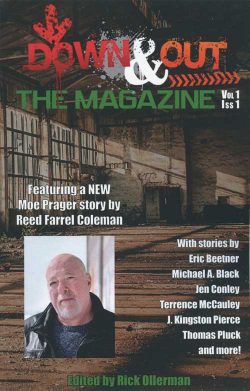 Excerpt from the review of Down & Out: The Magazine No. 1 in The Digest Enthusiast No. 7.
Each edition of The Magazine pays tribute to pages past where crime fiction writers earned only "A Few Cents A Word." Rick Ollerman sets the stage for his first pulp-master, Frederick Nebel, with background on Black Mask, its editors, and Nebel's rise when he was tapped to fill the void when his friend and contemporary, Dashiell Hammett, left the magazine.
Nebel's voluminous career began in Black Mask, from which his featured story, "Rough Justice," first appeared in November 1930.
Nebel's yarn stars "Tough Dick" Donahue, of the Inter-State Detective Agency. Donahue's assigned to recover a valuable ring for the insurance company that hired his agency; which leads him to St. Louis, (where Nebel lived at the time and often set his stories). Because he's new in town, Donahue needs someone local who knows what's what.
"A cop that can be smeared. A cop that knows this burgup, down and across—and"— he lowered his hard blunt voice—"a cop that'll keep his jaw shut after he's smeared and stay out of the way. No harness bull. A bigger guy."
If you're a pulp fiction fan, you can't go wrong with Nebel's prose, patter, or plotting. It captures the style and substance of its era beautifully—which makesfor a fascinating contrast with The Magazine's brand of new crime fiction.