A story from Justice Amazing Detective Mysteries #2, July 1955: "Drifter" by Herbert D. Kastle.
"Sure, she was pretty, and a guy nearing forty didn't get them that young—not unless he had a big office and she was his secretary or some kid out for the green stuff. But this wasn't anything like that."
It was much darker. Sid Tropp owned Jen and most of Ammerville. Sid set Jen up at Lady Sylvia's, working off the debt he claimed she owed him. That's where Jerry met her, where something clicked between them, and where they both got the bright idea that things could go somewhere other than south.
"Drifter" is a rock-solid noir that ends as it should, badly.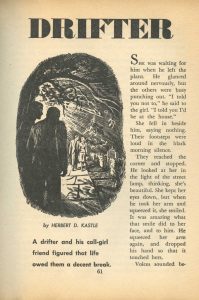 Herbert D. Kastle (1924–1987) wrote crime fiction for digest magazines like Manhunt, Trapped, and Sure-Fire. He also wrote for television and drew on this experience in the novels The Movie-Maker, Sunset People, and Cross Country. He also wrote some science fiction and served as the editor for the final two issues of Startling Stories.