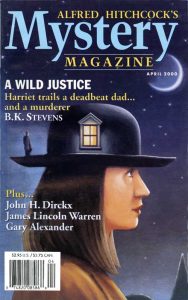 Ex-cop turned private detective, Iphigenia Woodhouse, premiered in the Mid-Dec 1991 edition of Alfred Hitchcock's Mystery Magazine, in a story called "Night Vision." Her assistant, Harriet Russo, appears on the cover of AHMM April 2000, painted by Tomek Olbinski, for the sixth mystery, "A Wild Justice."
Author B.K. Stevens shared the series origins in her interview in The Digest Enthusiast book six, excerpted below:
Iphigenia Woodhouse began, in part, as a response to some of the fictional female private detectives who became popular in the 1980s and 1990s. I enjoyed many of the novels and stories about those detectives, but their lives seemed very different from the lives of most of the women I knew. Usually, these detectives had no family obligations: Their parents were dead, their husbands (if any) divorced, their children nonexistent. If they liked, they could choose mentors they found compatible, have sex with men they found attractive, offer guidance to young people they found interesting. All their relationships were voluntary and temporary: They didn't owe anybody anything and could move on whenever they chose. If they decided to fly to another city to pursue a lead, they didn't have to coordinate schedules with anyone or arrange for childcare. In those respects, they had more in common with traditional male fictional private detectives than with most women today. That's fine—it's probably healthy to fantasize about complete independence from time to time. But I thought it might be interesting to write about a female private detective whose life is both enriched and limited by deep, lasting ties and obligations.
AHMM Mid-Dec. 1991 Woodhouse/Russo #1 "Night Vision" reprinted in Women of Mystery, ed. Cynthia Manson (Carroll & Graf, 1992)
AHMM Dec. 1993 Woodhouse/Russo #2 "Sideshow" reprinted in Women of Mystery II, ed. Cynthia Manson (Carroll & Graf, 1994); reprinted as "Une simple diversion" in Histoires d'homicides a domicile (Livre de Poche, 1995)
AHMM Dec. 1994 Woodhouse/Russo #3 "Death in Small Doses" reprinted in Women of Mystery III, ed. Kathleen Halligan (Carroll & Graf, 1998); reprinted in translation in a collection published by Livre de Poche
AHMM May 1996 Woodhouse/Russo #4 "Butlers in Love"
AHMM Jun. 1998 Woodhouse/Russo #5 "The Devil Hath Power"
AHMM April 2000 Woodhouse/Russo #6 "A Wild Justice"
AHMM May 2003 Woodhouse/Russo #7 "More Deadly to Give"
AHMM May 2008 Woodhouse/Russo #8 "Table for None"
AHMM Jul/Aug 2013 Woodhouse/Russo #9 "Murder Will Speak"