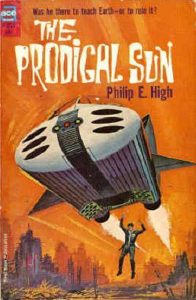 From International Science Fiction No. 1 (Nov. 1967):
The closing tale of ISF #1 is from England. "The Big Tin God" by Philip E. High was originally published in New Worlds Science Fiction (January 1963). The prevailing authoritarian government is about to be replaced by the product of an underground network of scientists building a monumental "brain" dubbed Dopey. The only certainty is the end of the old regime.
Philip E. High (1914–2006) became hooked on science fiction as a lad when he discovered a copy of Astounding Stories. In addition to reading everything he could find by Jules Verne and H.G.Wells he particularly admired Neville Shute. He once said of Shute, "That his style, his approach, was the one I most admired, and I hoped one day to write as well as he did."
In 1955 he sold his first story "The Statics" to H.J. Chapbell for Authentic Science Fiction. He recalled, "I received six guineas for it. It was the biggest thrill of my life. I am quite certain I walked up the wall and across the ceiling twice."
A bus driver in his day job, High continued to write for Nebula and New Worlds, where his stories were highly rated by readers. When the magazines' fortunes declined High turned to novels, his first, The Prodigal Sun, was published in US in 1964. It was followed by Invader on my Back, Butterfly Planet, The Time Mercenaries, and many others.
Two collections of High's short stories were published near the turn of the century; The Best of Philip E. High (2002) and Step To the Stars (2004).