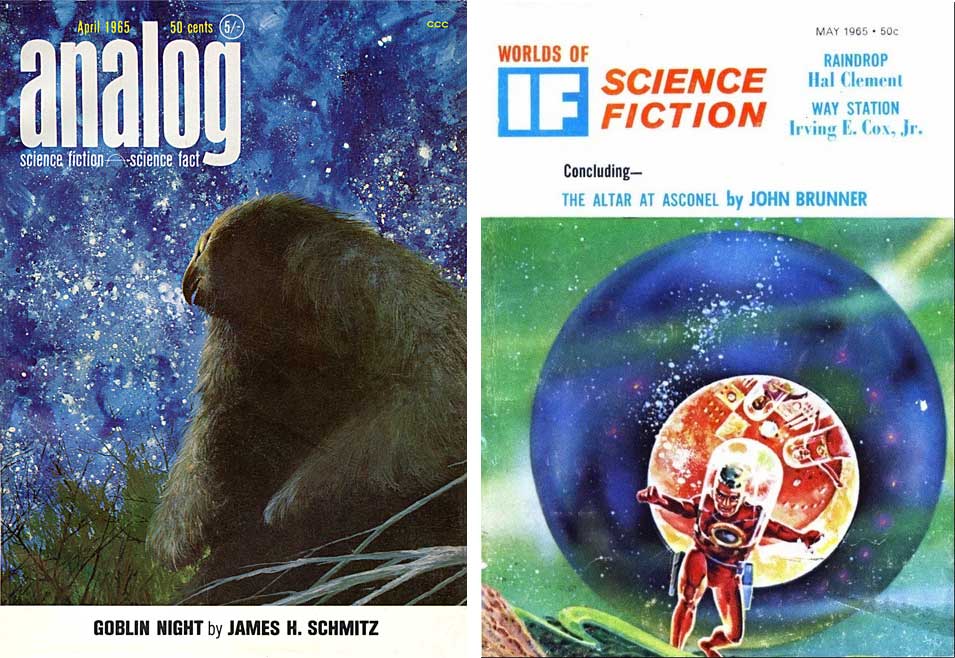 Analog April 1965 reviewed by Gideon Marcus at Galactic Journey.
Mystery Weekly Magazine Nov. 2019 reviewed by Kevin Tipple at Kevin's Corner.
Worlds of If May 1965 reviewed by David Levinson at Galactic Journey.

Digest Blogs
Mark W. Tiedemann discusses "The Story I'm Working on Now" at The Astounding Analog Companion.
Pat Black on fictional shelters at Something is Going to Happen.
Brian Trent discusses "Death on the Nefertem Express" at Fantasy & Science Fiction.
Nostalgia Digest Podcast
Every month since 2012, the Nostalgia Digest Podcast has taken listeners on a trip back to the "Golden Age" of entertainment . . . and as the Podcast turns 100, they're celebrating with the help of two special guests" Patty McCormack (The Bad Seed, Mama) and Rich (Svengoolie) Kaz! Click here to start listening!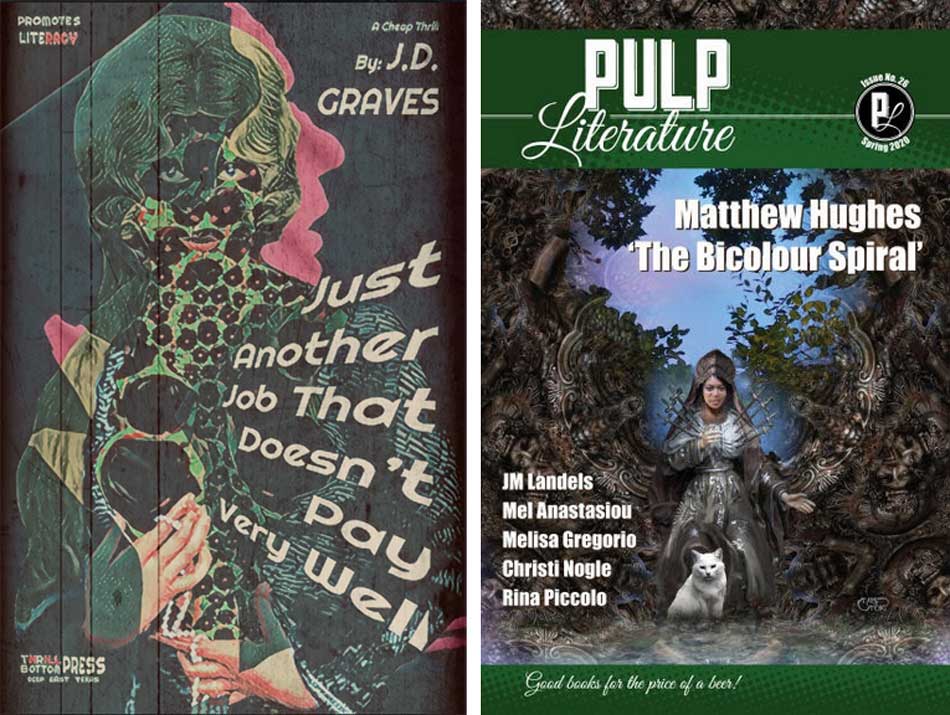 Free Crime Fiction
L.A. Wilson, Jr.'s "The Whisperers" was sent to Mystery Weekly Magazine's email subscriber's list on March 29, 2020. Sign up at Mystery Weekly Magazine.
Nikki Dolson's "Liars, Killers and Thieves" at Rusty Barnes' Tough Crime.
J.D. Graves offers "Just Another Job that Doesn't Pay Very Well" for Kindle.
Pulp Literature e-News
The April update from Pulp Literature includes an advance look at issue No. 26 for Spring 2020.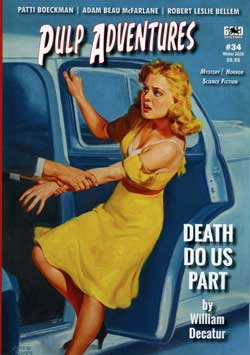 Readin' and Writin'
This week's main read was Pulp Adventures No. 34, published by Rich Harvey, and edited by Audrey Parente. Here's what's behind the cover by Albert Fisher (from Front Page Detective Jan. 1941):
Editorial by Rich Harvey
Robert Leslie Bellem has three pulp reprints in this issue; one under the pseudonym William Decatur. Rich Harvey explores Bellem's Hollywood Dectective: "Does the series epitomize the genre of hardboiled detectives . . . Or does the series actually lampoon the genre and its tropes, which were becoming cliché even before World War II commenced?" Perhaps, both.
"In a Sentimental Mood" by Logan Robichaud
Isaac A. Massinger is a suspected communist, his politics and advocacy cleverly hidden between the lines of his stories. Special Agents Beard and Greene have him under surveillance. The exact time period isn't clear, but Massinger writes on a typewriter. When confronted at his apartment, Massinger allows a search of the premises and Beard discovered a trove of incriminating papers hidden beneath the floor. Moody and atmospheric, Robichaud's prose exudes pulp while probing ideology, art, and connection.
"Death Do Us Part" by William Decatur (Robert Leslie Bellem)
"Fogarty had never been known to go back on his word, whether dealing with crooks or the Law. And for that reason, they picked him as go-between. The private detective was safe enough with $40,000—but that didn't mean he was safe with women."
P.I. Bob Fogarty is hired by Continental Assurance to deliver forty grand to a guy in Kansas City in exchange for eighty grand worth of stolen diamonds. The action and wordplay are non-stop in this intricately plotted screwball mystery adventure.
"Kill Me Again" by Robert Leslie Bellem
Turns out the previous narrative was only a warm-up for this scintillating Dan Turner, Hollywood Detective yarn. Turner returns home from a High Sierra camping trip with his pal newshound Jim Spencer and encounters his own funeral procession! Somebody was quick to capitalize on his two-week absence from civilization and wound up dead in a spectacular wreck while driving his car.
"Killer in Clay" by Robert Leslie Bellem and Adolphe Barreaux
It's quite interesting to read a Hollywood Detective comic story right after an adventure in prose. In this form, the author concentrates on plot with minimal narration, allowing the artwork to carry the action and dialog to tell the story. It's fun, but lacks the depth and wordplay of Bellem's prose stories.
"Comrade" by Adam Beau McFarlane
A massive sand storm forces Allied and Axis tanks to take shelter in an abandoned rail station. Under their impromptu truce, the opposing tank commanders engage in a high-stakes card game to determine their fate.
"On the Ego Identity of a Butterfly" by Patti Boeckman and Sharla Williams
Like Pulp Adventures itself, this story combines the best of old and new pulp. Boeckman wrote it years ago, Williams "brushed it up," for first time publication here. A youngster ekes out his childhood in a severely authoritarian family, his only friend an adopted butterfly that he attempts to tame.
"City of the Dead" by William M. Hope
A sword and sorcery novella joins series character Thurl the Gaelg on his trek to Samorrah to cash in the glowing blood red stone that recently came into his possession. But Samorrah has earned its mantle as the City of the Dead. The burly soldier of fortune will need all his wits and swordsmanship to survive the thieves, warriors, and the witch that lies ahead.
"Athena D" by Charles Burgess
Post-graduate Mike Simmons and his girlfriend, Jennifer Rolland, find themselves in the middle of a secret operation to disarm a Chinese satellite from the Yerkes Observatory in Williams Bay, Wisconsin.
"Straight Ahead Into Darkness" by Ron Riekki
An EMT finds himself with one for the books when he and his partner arrive at a trailer park to find an elderly man with a Taser dark stuck in his eye.
Pulp Adventures offers a pleasing collection of vintage and brand new pulp-inspired stories and artwork, across the genre spectrum. This issue is no exception. It's available for $9.95 in print, directly from Bold Venture Press and other outlets.
Alec Cizak offered free ad space for indie authors in the next Pulp Modern (first come, first served) on his twitter feed, which filled up in a matter of hours. The "winners" submitted their ads, which have now been added to the layout.
Also completed the layout of Steve Carper's article about Photoplay Editions for the upcoming The Digest Enthusiast No. 12. It's loaded with cover images from these early digest series. And Michael Neno finished his color illustration for Rick Ollerman's story.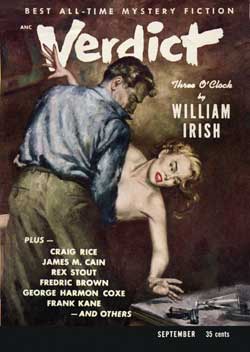 Vintage Crime Digest
Verdict Vol. 1 No. 4 Sept. 1953
Unfortunately, Verdict didn't continue after this issue, thus the conclusion of Rex Stout's Fer-De-Lance was never presented.
Contents Page
William Irish "Three O'Clock" art by Tom O'Sullivan
James M. Cain "Dead Man"
Fredric Brown "the Amazing Dip"
Dan Sontup's Tricks of the Trade: Firearms
George Harmon Coxe "Material Witness" art by Tom O'Sullivan
Frank Kane "Keeper of the Killed" (Johnny Liddell)
Craig Rice "Motive" (John J. Malone)
Rex Stout "Fer-De-Lance" (Part 4 of 5)(Nero Wolfe)
John C. Craig's What's In a Name? and Encores
Evan Hunter "Vicious Circle"
Leonard S. Grey "What's Your Verdict? No. 3"
Verdict Vol. 1 No. 4 Sept. 1953
Published monthly by Flying Eagle Publications, Inc.
Editor: John McCloud
Managing Editor: E.A. Tulman
Art Director: Chas. W. Adams
Editorial Assistant: Hal Walker
Business Manager: R.E. Decker
5.5" x 7.75" 144 pages 35¢