If you're a fan of Manhunt, Justice, which lasted only four issues, is a worthy addition to your collection. The third issues starts out strong with a novelette by William R. Cox called "Las Vegas Trip."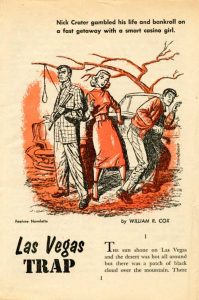 Anthony Boucher wrote in his review of Death on Location (1962) that Cox wrote about gambling "more convincingly than anyone except Ian Fleming." In "Las Vegas Trip" gambler Nick Crater is a little too good for the crooked poker tables at the Flaming Arrow hotel's casino. When confronted by a wiseguy named Buster, Nick foolishly adds to his troubles by decking the guy. That mistake forces him to gather his winnings and flee. Fortunately, the casino B-girl he met earlier, Meg Bond, also wants out of Vegas after the beating she took at some point prior, curtesy of Buster. Nick doesn't know if he can trust her, but he needs a ride so he bets she's on the level. She drives fast and they soon find themselves in the farm district of California, in a small berg, name of Suntown.
They ought to lay low, but Nick hears about a poker game run by the town's sheriff and can't resist. He plans to simply watch, but of course, he's soon drawn into the game. He does manage to keep his gambling itch under control and resist changing the luck of the evening's big winner, their motel's owner, Bull Barber. Unfortunately, the big man's luck runs out anyway. By morning, Nick learns Bull has been robbed and murdered, and finds himself drawn into the mystery of whodunit when the sheriff's lead suspect is obviously the victim of a setup.
There's romance, bigotry, gunplay, and pathos as the story unfolds, culminating in a neat ending that ties up loose ends and serves Justice well.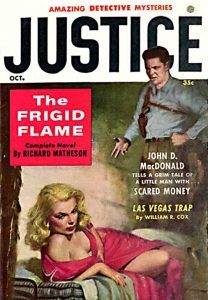 William R. Cox wrote 80 novels over his long career as a freelance writer. He purportedly averaged over a half-million published-words-a-year for 14 years during the pulp era. In addition to his sports, mystery, and western fiction, he also wrote the biography Luke Short: Famous Gambler of The Old West.
His wife, Casey, said that her husband died at the typewriter while at work on his 81st novel, Cemetery James and the Tombstone Wars, in August 1988. Cox also wrote several novels under the name Jonas Ward.