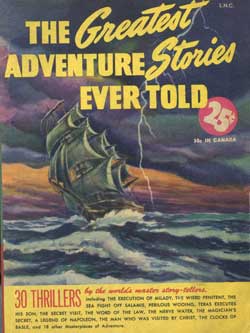 Published in 1945 by J.P. Feiner, The Greatest Adventure Stories Ever Told features "30 Thrillers by the world's master story-tellers."
Steve Carper's research for One-and-Dones part two (The Digest Enthusiast No. 8), reveals its likely connection to Doreen Publishing, who also produced (30 Tales of) Adventure and Romance, edited by Arnold Shaw.
Now Available from McFarland: Steve Carper's Robots in American Popular Culture, a comprehensive reference volume that includes a companion website: robotsinamericanpopularculture.com.