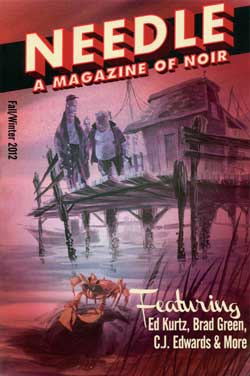 An excerpt from Michael Bracken's interview in The Digest Enthusiast No. 8, June 2018:
TDE: One of your stories, "Yellow Ribbon" with series character Morris Boyette, ran in the Fall/Winter 2012 edition of Needle. Details that initially help flesh out the setting or characters, are later revealed to have greater significance, integral to the story. What's the balance between serendipity and strategy as you plant these elements?
MB: For most stories it's a combination of both. Because I often write the beginning with no clue where I'm going, I throw in a bunch of stuff just to set the scene, describe the protagonist, or establish the inciting incident. For example, in "Texas Sundown" (Down & Out: The Magazine No. 3), I wrote about a slice of cherry pie just because I wanted to describe a slice of cherry pie. Later, I realized that slice of pie foreshadowed the ending, so I mentioned it again in a way that added depth to the story that I had not imagined when I started writing.
Other times it's much more deliberate. In the opening of "Dixie Quickies" (Black Cat Mystery Magazine No. 1), Tiny Campella stuffs a paperback novel in his back pocket. That and several other things mentioned in the first scene prove to be quite important late in the story, and most of them were intentional.
So, overall, I'd say serendipity and strategy play an equal role.
Needle Fall/Winter 2012
Contents Page
Steve Weddle: A Note from the Editor
Hugh Lessig "Victor Viral"
Brad Green "Seven Feet of Fire"
C.J. Edwards "A Hard Rep"
Erik Arneson "Mess With Me"
Rob W. Hart "Ginny Tonic"
Seamus Scanlon "No Witnesses"
Chris Rhatigan "Creator/Destroyer"
Ed Kurtz "Dog Will Hunt"
Kenneth Loosli "This Sorrow Is An Enemy"
John Kenyon "They All Look Alike"
Jeff Macfee "Trifecta"
Garnett Elliott "The Romero Covenant"
Glenn Gray "Venice Beach Birthday"
Michael Bracken "Yellow Ribbon"
Thomas Pluck "Gumbo Weather"
Timothy Friend "Dog Night"
Court Merrigan "The Scabrous Exploits…"
Kevin Adler "The Interview"
Kevin Brown "Two Birds, No Stone"
Stacey Cochran "Eddie & Sunny"
Matthew C. Funk "Everyone Know The Axeman"
Jim Winter "The Heckler"
Dan O'Shea "The Shroud of Turin"
Needle Magazine Fall/Winter 2012
Senior Editor: Steve Weddle
Editors: Naomi Johnson, Daniel O'Shea, Stephen Blackmoore, Matthew C. Funk
Creative Director Emeritus: John Honor Jacobs
Cover: Scott Morse
6" x 9" 248 pages
Print $10.75
Needle Magazine website