Marvel Entertainment and Archie Comics partnered last year to bring the Marvel Comics Digest to "big box retailers," newsstand, and comic shops. Marvel supplies the content, Archie the "packaging," and most importantly, the distribution.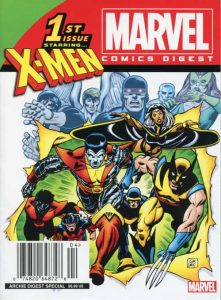 The six-times-a-year title began in July 2017. The line-up thus far:
#1 Spiderman July 2017
#2 Avengers Sep. 2017
#3 Thor Dec. 2017
#4 X-Men Feb. 2018
"For years, Archie has made the digest format our bread and butter," said Jon Goldwater, Publisher/CEO of Archie Comics, in the press release.
So far the issues have been like a trip through time. Each one begins with a story from the featured series' original run by creators like Steve Ditko, Jack Kirby, and Stan Lee. Then the 224-page digests present progressively more current reprints until their final page. Retail price is $6.99.
Issue #5 will feature Avengers and Black Panther, just in time for the release of the Black Panther movie coming out on Feb. 16, 2018.