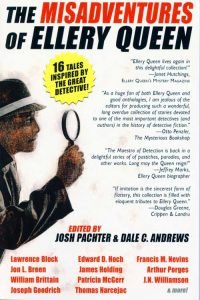 Introduction for The Misadventures of Ellery Queen edited by Josh Pachter and Dale C. Andrews
Make room. Wildside's new anthology is both an instant classic, and an instant pleasure to peruse. There is mystery history here. In 1929, writing cousins Frederic Dannay (1905–1982) and Manfred Lee (1905–1971) created Ellery Queen as both character and author. In 1944, Ellery Queen (the writer) edited and published a collection called The Misadventures of Sherlock Holmes. Apparently, Arthur Conan Doyle was not amused with other writers' emulations of his famous detective, and the volume soon made itself scarce. Mystery fans, however, enjoy reading both a pastiche or a parody based on their favorite series, and the first of many such stories inspired by Ellery Queen (the character) began to appear as early as 1947.
Not long after Manfred Lee's death, Josh Pachter suggested to Frederic Dannay it might be time for a collection of such stories, fittingly titled The Misadventures of Ellery Queen. Dannay agreed, but the concept languished for reasons lost to history. That is, until 2015, when Pachter met co-editor Dale C. Andrews, and together they brought the idea to life in a collection of 16 stories. After the Pachter/Andrews' introduction, and two others by Richard Dannay (Frederic's son) and Rand Lee (Manfred's son); the volume is divided into three sections: pastiches (6), parodies (3), and potpourri (7), which are basically stories inspired by Queen but not featuring him.
To be continued . . .