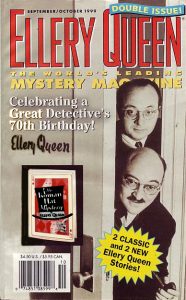 The third story in The Misadventures of Ellery Queen, edited by Josh Pachter and Dale C. Andrews, pastiche section:
Jon L. Breen's "The Gilbert and Sullivan Clue" first appeared in a double-issue of EQMM (Sep/Oct) in 1999. After a wildly successful comedy duo splits, Ozzie Foyle's career as a solo takes off, while his old partner Joey Dugan's tanks. A murder takes place on the cruise ship where Foyle is headlining and Ellery Queen is onboard courtesy of Foyle's agent. The mystery requires nearly a dozen characters, which in turn requires four pages to introduce and clarify their relationships. Even with Breen's efficient prose, the story ramps slowly. Fortunately, once the setup's complete, the pace quickens and the plot thickens quite nicely.
EQMM base image from Galactic Central.
More to come . . .