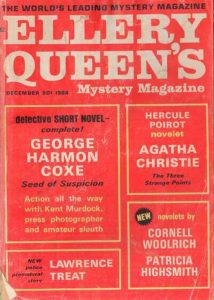 The second of three entries in the parody section of The Misadventures of Ellery Queen, edited by Josh Pachter and Dale C. Andrews:
Arthur Porges wrote two Queen parodies. His first, "The English Village Mystery" from EQMM (Dec. 1964), is reprinted here. Celery Green is called into a case too baffling for authorities East, North, and South. A dozen residents of tiny Tottering-on-the-Brink are dead; which leaves only three remaining citizens. Can Celery thicken the plot before "on" becomes "over" the brink?
EQMM cover image from Galactic Central.
This review continues on April 14th . . .