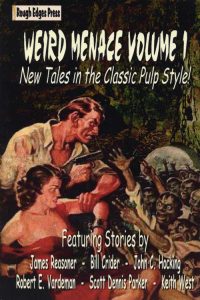 Much of my reading is in support of my series, The Digest Enthusiast—for articles, reviews, or interviews. When I take a break and pick up something purely for its own sake, I often turn to pulp fiction. For me, these stories are akin to comfort food, perhaps not entirely nutrition-rich, but delicious and satisfying all the same.
I've never actually read a shudder pulp, but I have to believe the stories in Weird Menace Vol. 1 from Rough Edges Press, are authentic. They're set in right era and their creators are highly qualified to crank out new stories crafted in the rapid-fire, tension-packed style that inspired them.
I zeroed in on Vol. 2 because it contained a story by Michael Bracken that I wanted to read as prep for my interview with him for TDE8. But when I noticed Bill Crider had a story in Vol. 1, well, I had to have that one too. When I wrapped up design and production on TDE8, I was ready for a comfort read and sat down to read Bill's story. I liked it so much, I decided to try another, and flew through the whole of volume one before I knew it.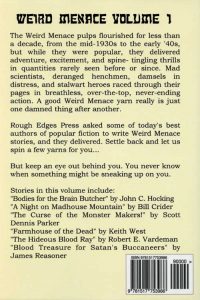 What's more, I'd be hard pressed to name a favorite. Each story was just plain fun to read; and despite their similarities, there's enough variation in the setups, threats, and narrow escapes, so the action never slows. In fact, the trouble only escalates. What a harrowing, pleasurable read!