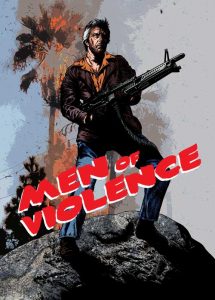 Prolific publisher Justin Marriott is working on an impressive queue of magazines for the balance of the year. He sent the full list to TDE which you can read about in the News Digest section of book eight, either by purchasing a copy or simply reading the preview pages available on amazon.
Late last week Justin sent a preview of the cover for Men of Violence No. 10, which will be released by the end of June. In the meantime, issues No. 4–9 are available now.
Hat tip to John O'Neill for including the cover of TDE8 in his "Late May Fantasy Magazine Rack" summary on Black Gate.