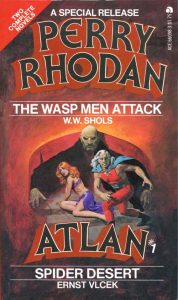 From International Science Fiction No. 1 (Nov. 1967):
"Monster" pairs the team of Helmuth W. Mommers and Ernest Vleck for the second time in this edition of ISF, translated by Harry Warner, Jr. Told from the first-person viewpoint of an orphan, Oliver, who is different from all of the institution's other children. Albino skin for one, but there's more that is slowly revealed before and after he's nearly drown by Butcher, a mean-spirited menial of the orphanage.
No one would ever want to bring Oliver home. Yet, one day someone does. As Butcher pushes the orphan through the halls toward his waiting adopters, Oliver's senses warn him of imminent danger. He flees, eluding the massive manhunt that ensues. From hiding he learns the truth of his origins and why the military wants him dead.
In addition to his collaborations with Mommers, Ernst Vleck wrote the first Atlan novel "Spider Desert" which appeared in the first edition of the Ace double series Perry Rhodan/Atlan (September 1977).