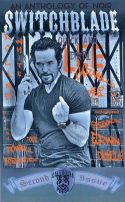 Stories from Switchblade No. 2, edited by Scotch Rutherford:
Graphic sex and violence abound in J.L. Boekestein's "Years of Paper and Steel" appropriately kicking off this issue's Quick & Dirty Flash section. When it boils down to a very bad existence or none at all, which would you choose?
Great to see some flash from editor Scotch Rutherford in his own magazine. A couple of "Bookie Boyz" want part of the action on the ASU campus, but does the fraternity want them? Terse and tough like a switchblade's snick.
Stephen D. Rogers' "Meeting the Demand's" single page goes by in a scarlet flash of carefully minced words.
To paraphrase Woody Allen, "The rewards of a robbery are nice at the time, but a double-crossis something you alway have." A twisted quote that seems to fit Peter Dichellis' "Hostile Plans" in which two former partners in crime reunite with malice aforethought.