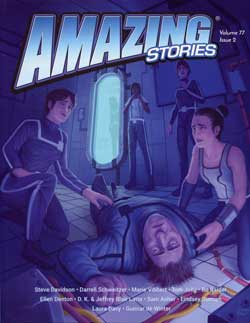 New Releases
Amazing Stories Volume 77 No. 2 Sept. 2020
The home of Jules Verne and H. G. Wells, publisher of the first stories of Ursula K. Leguin and Isaac Asimov–Amazing Stories–is back in print after an absence of more than a decade! This relaunch of the iconic first science fiction magazine is packed full of exciting science fiction, fantasy, and articles, all in a beautiful package featuring eye-catching illustrations and cartoons.The Amazing Stories Summer 2020 issue (the 619th issue since 1926) includes work by: Steve Davidson • Darrell Schweitzer • Marie Vibbert • Tom Jolly • Bo Balder • Ellen Denton • D. K. & Jeffrey Blair Latta • Sam Asher • Lindsey Duncan • Laura Davy • Gunnar de Winter.
Print $9.95 Kindle $2.99
Kevin Tipple highlights SMFS members in AHMM Nov/Dec 2020 issue at The Short Mystery Fiction Society blog.
And again, for EQMM Nov/Dec 2020: The Short Mystery Fiction Society blog.

Digest Magazine Reviews
Ron Fortier reviews The Guns of Pluto (Captain Future) by Allen Steele at Pulp Fiction Reviews.
Gideon Marcus reviews Fantasy & Science Fiction Nov. 1965 at Galactic Journey.
Doug Ellis reviews A Man of Science: A Study of the Readership of Analog Science Fact-Fiction at Black Gate.
Todd Mason reviews EQMM Oct. 1962, Fantastic Oct. 1970, Partisan Review Vol. 44 No. 4 (1977), and Great Ghost Stories of the Old West at Sweet Freedom.
Victoria Silverwolf reviews Fantastic Nov. 1965 at Galactic Journey.

Digest Magazine Blogs
Dr. Karl P.N. Shuker on "Visiting the Land of the Stone Giants" on Easter Island at Fate Magazine.
J.M. Swenson on "Enter the Fungicene" from Analog Nov/Dec 2020 at The Astounding Analog Companion.
Edwin Hill on "Memory and What if…?" at EQMM's Something is Going to Happen.
Kevin J. Anderson and Rick Wilber explain "The Hind" from Asimov's Nov/Dec 2020 at From Earth to the Stars.
Storytime
Tricia Saiki's "Wrong House" at Close to the Bone.
Mav Skye reads Alec Cizak's "The Bridge" on her podcast Dark Softly Tales. (Thanks Kevin Tipple.)
Michael Bracken's "Bicycles" at Pulp Modern Flash.
Marie S. Crosswell's "Killers and Samaritans" at Tough Crime.
Jay Rohr's "A Good Shepherd" at Close to the Bone.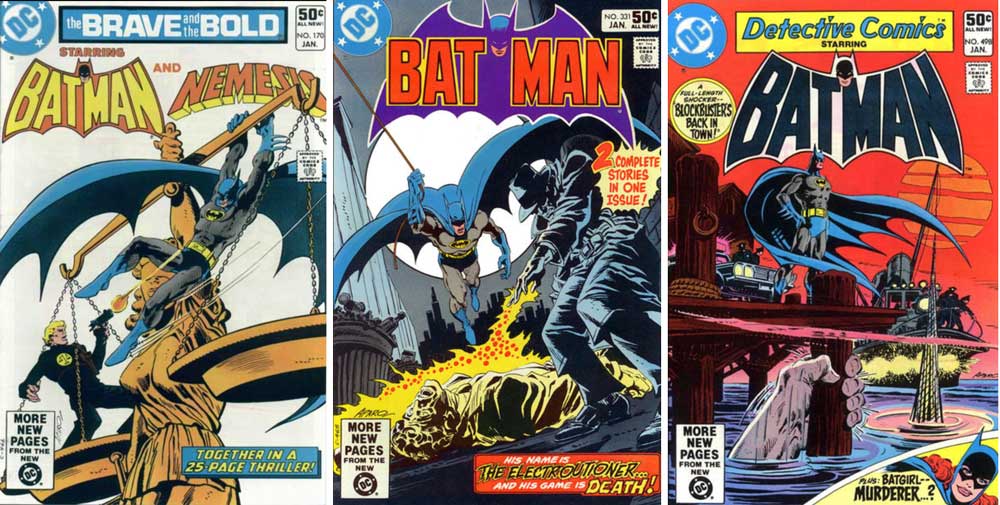 TDE Contributors' Corner
Jack Seabrook and Peter Enfantino review Batman No. 331, Detective No. 498, and The Brave and the Bold No. 170 at bare•bones e-zine.
Robert Lopresti reviews the origins of his series character PI Marty Crow at Sleuthsayers.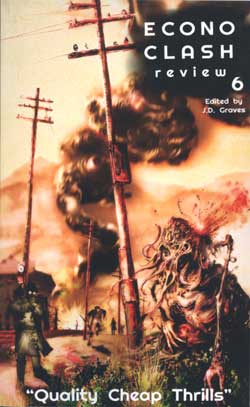 Jack Seabrook's The Hitchcock Project—Alfred Hayes Part One: A Piece of the Action at bare•bones e-zine.
TDE Booksellers
Bud's Art Books' latest weekly NEW ITEMS blog post headlines King-Size Editions.
Readin and Writin'
EconoClash Review continues its streak of stellar issues with No. 6 from Down & Out Books. A terrific collection of short stories or "Quality Cheap Thrills" as editor J.D. Graves promises to deliver. Every one was worth reading, but among my favorites this time were stories by Preston Lang, Serena Jayne, and John Kojak. And it was great to read a story from the editor himself in this edition. All in all, a top-notch anthology—highly recommended.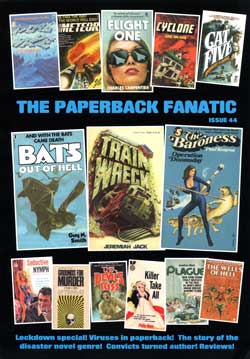 Justin Marriott and friends pack a lot of reading into the 64-page Paperback Fanatic No. 44. I have to admit reading about novels featuring natural disasters in the middle of a pandemic gave me pause. The issue opens with an overview of Gil Cohen: One Man Army by Robert Deis and Wyatt Doyle, with a gallery of Cohen's original paintings for Mack Bolan, The Executioner series. Then it's on to disaster. First up: floods, fires, earthquakes, hurricanes, avalances, and tidal waves. You name it, there's a novel written around it—probably several—some natural, some induced by an evil genuis or organization. But the paperback landslide of The Plague Chronicles dwarfs the former disaster subgenre with more titles than I thought possible. Even after 22 pages, the Fanatic hadn't exposed them all. No problem, I was ready to move on. Fortunately, the next piece, Prose and Cons, is all about convicts who turned to writing crime fiction, which I found by itself worth the price of the issue—outstanding! And to cap things off, the final pages provide almost two dozen retro-reviews of collectible paperbacks. Some worth seeking out and some cautionary tales.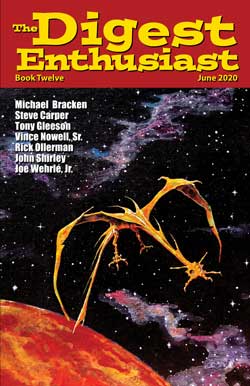 My interview with Emily Hockaday wrapped this week, so the only substantial content remaining for The Digest Enthusiast No. 13, is the news gathering phase, which I'll begin next month. At this rate, the issue should be out in December. For the rest of this month, I'll concentrate on proofing pages and working on my other two projects: Pulp Modern Vol. 2 Nol. 6 and the Roman Scott collection.
Our current issue: The Digest Enthusiast No. 12 is available in print at Lulu.com and Amazon, and in digital formats at Kindle Books and Magzter.